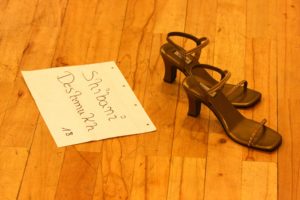 We are looking for actors and dancers for our casting in Hamburg who are interested in being referred to Indian film and show productions by us.
The condition for inclusion in our casting database is completed or advanced acting or dance training. In addition, applicants should have strong emotional expression and bring a lot of zest for life.
Pari Productions mediates directly with Bollywood productions in Europe and in European stage productions with an Indian focus.
In order to serve this market particularly well, all candidates in our database should have knowledge of Indian culture and Indian dance. Therefore, with the appropriate requirements, additional training to become a Bollywood actor, dancer, trainer or a Bhangra trainer training is possible with us. Successful participation in one of our casting appointments is a prerequisite for inclusion in our casting database.
Our workshops offer the chance to gain further qualifications. The current offers are at Bollywood Academy to find. Examples of our casting customers in the Bollywood sector are below References casting listed. Just take a look and then apply to Pari Productions, we look forward to seeing you.
The countless stays in Mumbai and the experience with Bollywood film productions have shown that there is a great need for European actors on location. Pari Productions has decided to go directly to India and to offer BollyDance on Goa. That is why we want to hold auditions and special workshops between January and March every year, tailored to the respective film production. An ideal opportunity for anyone interested to take their first steps to Bollywood on Goa and combine a beach holiday with dancing. If the dates are fixed, you will find all the information you need here.
Big castings in 2014 took place in Hamburg and India in the fall.
Casting1: For a film production in Mumbai, we were looking for dancers who looked as European as possible (preferably blond) who would go to India for about six months to shoot. The castings were organized in autumn by Pari-Productions and the Indian partners in Hamburg. The casting, training and deployment in India were accompanied by an ARD team (SR + SWR) for the TV travel report "Meine Traumreise".
Casting 2: In the summer Pari Productions organized a tour with BollyDance shows through Turkish luxury resorts. Exotic looking dancers were wanted. The choreographies were practiced in Hamburg with Pari Productions.
2018 auditions will take place in Hamburg and India in autumn.
Casting: In autumn we are planning a new Bollywood show as a colorful and full-length program for theater and show stages. Together with international acrobatics and dance artists, an exotic show is to be created that reflects the diversity of India. The new show is to be designed in the style of previous productions such as BollyDance Circus, Taj Mahal Show or Maharaja Show. We are still looking for actors, artists and dancers with experience and a weakness for Bollywood or India. We are still expanding our database for Bollywood film and stage productions and you are cordially invited to introduce yourself to us. If you are more interested in the casting agency, apply online now.