Dance at our Bollywood workshops

BollyDance brings the best dancers from the film live to Hamburg for you! Take the unique chance to learn Bollywood dance in these workshops. We regularly invite dancers and choreographers who have already been seen at Bharati (the largest international Bollywood stage spectacle) and in many well-known Bollywood films to train with you in various dance studios. Workshops are planned in which original choreographies are rehearsed and possibly danced in pairs - also for male dancers. Registration and more detailed dates will be announced here. During the "workshop-free" times you can get in the mood for the current courses!
BOLLYDANCE  TERMINE 2022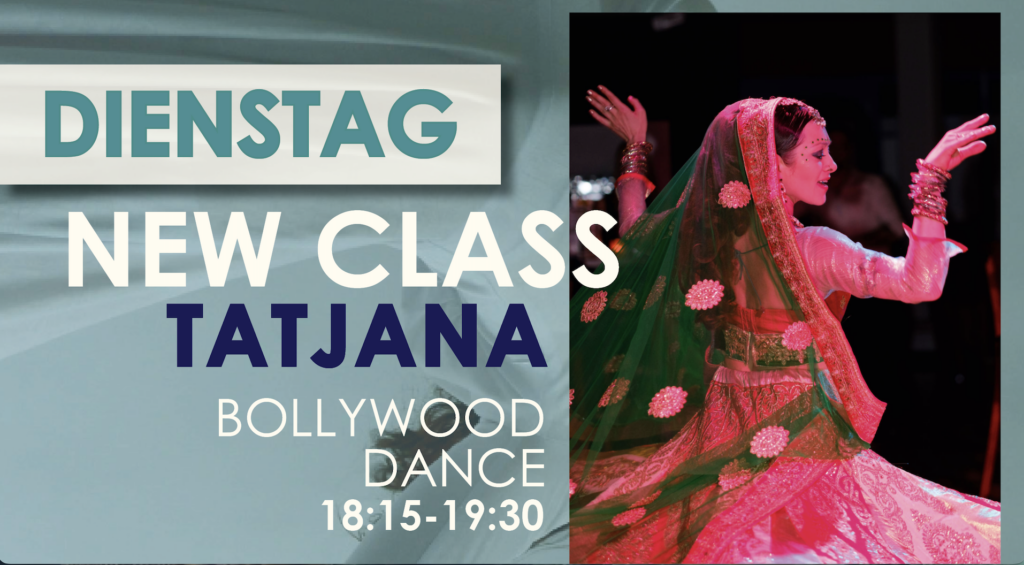 BOLLYDANCE DATES 2019
BollyDance Ausbildung 2020
Bollywood Dance, Bhangra-and-Indian-Spirit dancer and trainer training 2019 which also enables entry into the dance company and the casting agency:
Block I - 21-22.09.19 (classic)
Block II - 12-13.10.19 (Indian Spirit)
Block III - 09-10.11.19 (choreography)
Block IV - 14-15.12.19 (Master Class)
Lecturers: Tatjana Wegner (seminar leader), Gudrun Märtens (Odissi), Alisa Kühn (Kathak, Kushipudi, Bharata Natyam, Bhangra), Anna Grover (Bharata Natyam), Veronika Gorobinskaya, Laura van de Castel (fitness).
Costs: 250.00 euros plus VAT. per seminar. Reduced EUR 230.00 for incoming payments up to 4 weeks before the respective date. (See also seminar description)
Total: € 1,250.00 plus 19 % VAT € 237.50
Total: 1,487.50 €
Seminar leader: Tatjana Wegner
Time: from 12 p.m. to 6 p.m.
Content:Download seminar description as .pdf
Target group: talented, dancers, coaches, advanced dancers
Registration: Participation only after prior registration.
Address: LoCura Hamburg
Kathak dance workshop
Kathak is one of the classical Indian dance forms on which many Bollywood choreographies are based. Our workshop was led by the famous Bollywood choreographer Vijayshree Chaudhary. More information can be found here.
to the Kathak dance workshop

Tribal Bellydance
This dance form is a unique body & mind concept with a strong focus on belly dance techniques. Bindi Bolar is considered an important protagonist of this style and has been won over as a lecturer for the BollyDance Academy. More information can be found here.
to Tribal Bellydance

Bollywood workshops in Goa
Learn Bollywood Dance in India! In the meantime, Tatjana Wegner offers dance workshops in Goa every year in cooperation with the Samata Retreat Center near Arambol. Contents are Indian dance styles, Bhangra (folklore) and Bollywood dance and Indian teachers also teach. More information can be found here.
to Bollywood workshops in Goa

Workshops in Tulum / Mexico
Why not take a wellness vacation in Mexico? Wellness workshops with Tatjana Wegner can be booked in the Healing House in Tulum near the Yucatan. The yoga units, which alternate with dance training for Bollywood dance or Mayan dances, serve to relax. You can find more information here:
to the workshops in Tulum / Mexico

Archive workshops
All workshops that were offered in the BollyDance Academy can be found here with detailed descriptions.
to the workshop archive

The specialists in Indian dance
In our BollyDance Academy, many internationally known lecturers have now been hired. All are presented here.
to the specialists in Indian dance