Tatjana Wegner works as a dancer, choreographer and wellness coach. Thanks to many additional training courses and trips, she was able to expand her repertoire far beyond classical ballet dance. This background makes it possible to offer the following spectrum as a wellness trainer:
Ballet workout, children's ballet, contact improv, modern dance, Pilates, universal yoga, Ashtanga yoga, yoga gym, yoga dance, hatha yoga, Qi Gong dance, back exercises, salsa dance, dance therapy, folklore, senior gymnastics
New wellness concepts are catching on!
Darüber hinaus entwickelte Tatjana Wegner eigene Wellness Trainings, die sie an Trainer und Sportinteressierte weitergibt. Als Personal Coach, in den Studios und in den Workshops bietet sie deshalb zusätzlich sowohl folgende sowie eigene Kurse an:
Meditation
Coaching
Tanz Therapie
Therapeutic ballet
Ballet workout
Bolly Fitness, Bhangra Dance, Bolly Hip Hop
Indian Spirit, BollyDance
Yoga dance
4 Elemente Yoga, Therapeutisches Yoga
Yoga
Pilates
Spirit Pilates
Standing Pilates
Qi Gong
Therapeutic ballet
The technique of classical ballet consists of fixed, structured and ordered forms. Contrary to the more general conventional ideas that result from this, these can lead to physical security, centering and stability, and thus contribute to strengthening self-confidence. In this seminar, basic forms of ballet are taught, creating the basis for your own creative expression with the topics that are contained in these basic forms of ballet. Such as the grounding in the Plié, the centering in the Passé, the balance in the Arabesque and the height in the jumps. Individual improvisations, partner work, as well as circle dances and sequences of a dance theater based on them are included. For all people with and without previous dance knowledge who want to find a new approach to ballet in this special way.
Bhangra workout / hip hop
A new mega music trend is just around the corner and heralds another epoch from the modern world of popular music and dance culture!
We are talking about BANGHRA DANCE, a mixture of romantic Indian music and the rhythmically electrifying grooves and moves of hip hop and black music.
BHANGRA is a folk dance from the Punjab, a region in northern India. Its hallmarks are dynamic, sonorous rhythms; in Europe it was the MC Punjabi hit that brought the West into contact with the typical BHANGRA sound for the first time.
For the dancers of this dynamic dance style, this mixture of folk dance, hip hop and aerobics means a focus on the shoulder and footwork.
The shoulders remain in use all the time and are connected with various step combinations.
From the point of view of sporty fitness dancing, BHANGRA DANCE is an effective fat burner training in which strength endurance as well as stamina and coordination are promoted. These trend moves are led by Tatjana Wegner, the trendsetter of this dance style.
Bolly hip
is the current trend from Tatjana Wegner's BollyDance Company. BOLLY HIP describes a lively and dynamic workout that is unique in fitness dance movement and focuses on working with the "hip". It's a mix of Indian Bollywood dance and Western hip hop.
The innumerable possibilities of movement of the hip are in fact a science in themselves.
Anyone who has ever experienced the distinctive and graceful hip swings of Bollywood dancers knows about the potential and dimensions of these clearly erotic moves.
BOLLY HIP knows and teaches very different types of hip mobility. There are clear movement patterns and positions with their own names and origins such as "Rajastani Hips" or "Tumka" or "The 8".
The modern hip hop steps and moves merge with the erotic hip movements from Bollywood dance. The hand gestures from Indian dance support this new style. The training is to very rhythmic music from the genres Bollywood, Bhangra, Oriental with a clear tendency towards crossover, whereby the sounds of different drums are in the foreground.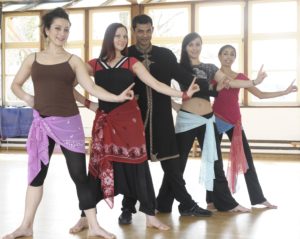 Ashtanga yoga
Ashtanga Yoga is a holistic yoga method that combines asanas (body postures) and pranayama (breath control). There are fixed series of movements of dynamic yoga postures that are specifically synchronized with the breath. Many modern yoga schools such as Vinyasa, Flow or Power Yoga were developed out of Ashtanga. It is a holistic method based on the further development of the Hatha techniques by T. Krishnamacharyer, which he taught since 1927. He taught individually designed exercises, to train and thus to advance one's own development or to alleviate illnesses. Since 1973 this direction has been introduced and taught in the West. Tatjana Wegner is a qualified trainer for Ashtanga Yoga from Vijay Amar from Dharamsala and teaches regularly in Hamburg.
Universal yoga
Universal Yoga is ideal for everyone who not only wants to train their body and keep it fit, but also strives for mental stability. Universal yoga consists of classic yoga elements that are connected to one another and does not just pick out a few aspects of yoga, such as numerous different types of yoga that exist today. This combination of different styles and the concentration on the core of yoga creates a holistic wellness training for body and mind. Movement sequences are combined with targeted breathing exercises and conscious laughter and thus serve to reduce stress and lead to better flexibility. The seamless transition of the individual exercises and the non-stop slow movements cause energies to be released and flow in the body. Depression, lack of sheep or a lack of self-esteem are a thing of the past.
Yoga gym
Yoga Gym is a form of training for a wide variety of groups (e.g. fitness or yoga beginners) that manages to combine the advantages of several movement philosophies and offers joint and back-friendly wellness training that also integrates the positive mental effects of traditional yoga. These include: Conscious breathing techniques, improved body perception and perception of the environment, expansion of physical and mental performance and increased ability to concentrate.
Yoga dance

Yoga dance is ideal for everyone who not only wants to train their body and keep it fit, but who also enjoys dancing movements. Yoga dance consists of classic yoga elements that are connected to one another in flowing movements. This type of wellness training does not consist of individual exercises, but rather represents a flow of exercises. The aim is not to take any breaks during the training. The elements are lined up and always executed as a whole sequence. The many repetitions make it easy to memorize the elements, to automate them and to feel completely into the movement. The seamless transition of the individual exercises and the uninterrupted slow movements ensure that energies are released and can flow in the body.
Participants report that the body becomes more flexible and agile from repetition to repetition and after the lesson the impression arises that the body has become "longer", "bigger". In addition, due to the playful and dance-like use of the exercises, the actual exertion is less noticeable. During yoga dance, the whole body is trained. Many exercises are full body exercises. Strength, mobility, flexibility, stability and posture are trained. In particular, the balance is improved, on the one hand through the individual elements themselves, on the other hand through the transitions from one element to the next - this training effect would not be given by individual elements that are exercised separately from one another.
Pilates
Pilates is a unique wellness training that emphasizes the correct posture of the body and correct breathing. The two power centers of the human body are strengthened. They are made up of the transverse and deep abdominal muscles and, on the other hand, the middle back and shoulder muscles. Pilates can be used to improve general fitness for people of all ages. It can and should be combined with other sports. It improves performance in all areas, promotes better posture and body awareness.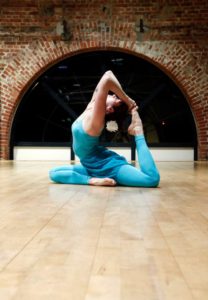 Qi Gong
This wellness training is an important part of the ancient Chinese medicine. There are around 800 movement sequences. QiGong usually takes place on the spot - standing, lying down and sitting. Through long practice, energy (Qi) should be collected and directed to certain places in the body. The movements are repeated at least 20 times. QiGong exercises are intended to harmonize or strengthen the life energy and thus contribute to balancing the power poles Ying and Yang. Such body work is a useful addition to a holistic dance concept like BollyDance.