Indian Spirit® is a classic "body mind concept" and stands for Asian wellness.
Elements of yoga, modern dance, Qi-Gong, Tai Chi, Eastern martial arts, trance dance and dance therapy are combined in various complete sequences of movements.
INDIAN SPIRIT® is a deliberately gentle workout which, thanks to its meditative orientation, promotes the feeling in your own body and develops a dynamic effect towards the end.
One focus is on working with the mudras, the typical hand and finger gestures, which in combination with the foot techniques promote the flow of energy in the body and release blockages.
INDIAN SPIRIT® was developed by Tatjana Wegner as an Asian wellness offer. It is a successful synthesis of different proven styles and disciplines which have one thing in common: the development of a harmonious body awareness.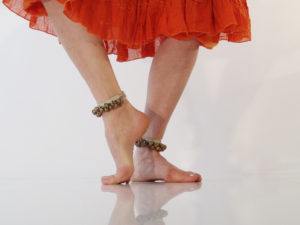 Training as an Indian Spirit Moves Trainer
Flyer for download
The "Indian Spirit" ® training is integrated in the BollyDance trainer training and is therefore aimed primarily at fitness or dance trainers, but of course also at dancers.
"Indian Spirit" ® combines fast, rhythmic movements that originate from Indian temple dance or aerobics with slow, meditative elements from yoga, tai chi and qi gong. An important part of the training is also learning the mudras (hand gestures) and adavus (foot techniques), with the help of which both the reflex zones and the meridians of the entire body are activated and harmonized. In order to increase the healing effect of the mudras, they are combined with acupressure.
The movements used in "Indian Spirit" ® are all symbolic in character, so understanding the respective meaning also plays a major role: The slow, flowing movements are based on the Hindu deities Shiva, Parvati, Krishna and the elephant god Ganesh . The BollyDance steps and choreographies learned in training are used for the fast, dynamic sequences.